Whether one places a bet online, at an off-track betting (OTB) site, or at the race itself, one thing is for certain: A boatload of money will be changing hands in the hours leading up to the 2012 Belmont Stakes. The elusive Triple Crown is at stake – a single horse hasn't taken all three of the biggest purses since Alydar did it in 1978, and this year, I'll Have Another (the prohibitive favorite at 6 to 4 odds) has a chance to make history. A lot of people – not just the stereotypical gamblers – want to be a part of it, and having won money on the first Triple Crown winner in 34 years would definitely slake that thirst. Wagerers beware, though – the same level of excitement was brought to the betting window a couple of years ago, when Blame upset the mighty Zenyatta. Here are some of the biggest wagers and jackpot winners in Belmont Stakes betting History.
Ruler on Ice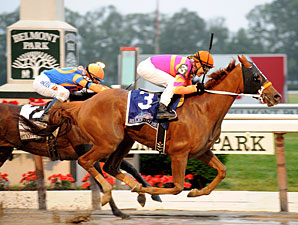 Last year, the 24-to-1 Ruler on Ice shocked even the most seasoned gamblers, pounding down the muddy track past much-ballyhooed horses like Shackleford and Animal Kingdom. A $2 bet on Ruler on Ice yielded a $51 payout, but the real winners were his owners, whose prize money came to $600,000 – not bad for a $100,000 horse.
Lemon Drop Kid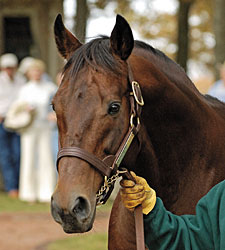 1999 saw an attendance record set, with over 85,000 people attending the Belmont Stakes, most of them expecting to see Charismatic dominate the field to wrap up a Triple Crown. The great horse had to pull up short with foreleg injuries, allowing long-shot Lemon Drop Kid to steal the show. $63 was the reward for the faith shown in the form of a $2 ticket that day.
Pass Catcher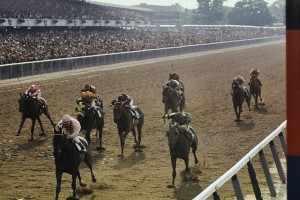 In 1971, the Latino community of New York City turned out to support the odds-on favorite at the Belmont Stakes, a Venezeulan colt named Canonero II. Nobody thought much of Pass catcher except for trainer Eddie Yowel, who had trained the 1965 Belmont winner, Hail to All. Against 34.5-to-1 odds, Pass Catcher brought Hall of Fame jockey Walter Blum across the finish line and into the winner's circle, enriching those who took a chance on him to the tune of about $70 on a $2 investment.
Bird Stone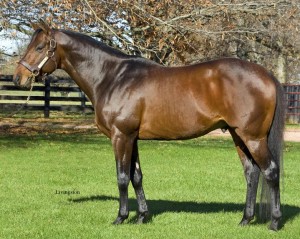 The odds-on heavy in the 2004 Belmont Stakes was Smarty Jones, a horse expected to polish off the first Triple Crown since 1978, as he had just set the speed record at the Preakness Stakes a few weeks before. He ran too hard out of the gate, though, allowing 36-1 underdog Bird Stone to crash his Belmont party by a single length. $2 wagers on Bird Stone returned $74.
Da'Tara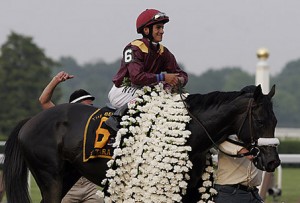 In 2008, the heavy favorite was Big Brown, who appeared poised to seize the Triple Crown in the eyes of gamblers and handicappers alike. It never happened, as long-shot Da'Tara broke out of the gate in front and never looked back. A $2 wager on the fleet filly brought back a reward of $79, representing the second-largest payout in Belmont's modern era.
Temperence Hill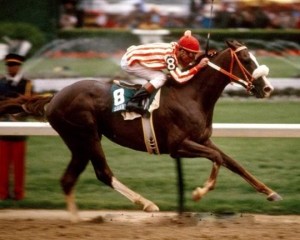 The winners of both the Kentucky Derby (Genuine Risk) and the Preakness Stakes (Codex) were in the field for the 1980 Belmont Stakes, and both of them were ranked well above Temperance Hill, who was given little chance at 53-to-1, paying out over $100 on a $2 bet. In 16 years as a stud, Temperence Hill sired horses that would go on to earn over $26 million in winnings.
Sherluck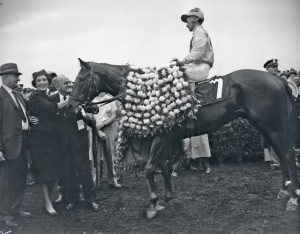 Going into the 1961 Belmont Stakes, Sherluck had only won once in his previous ten outings, so one could hardly blame the sports books for listing him at 65 to 1 odds. Anyone who believed in him, and realized he had a great jockey in Braulio Baeza, who rode him in that lone victory, the Blue Grass Stakes, earlier that year. A $2 bet would have paid back around $130.
Sarava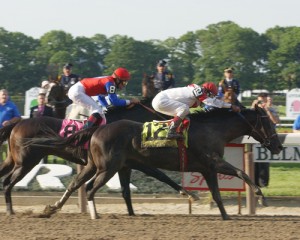 In 2002, War Emblem was on the cusp of winning the Triple Crown, but the Belmont oddsmakers never saw Sarava coming in first, not at 70-to-1 odds. Those are, in fact, the longest odds ever overcome by a Belmont Stakes winner. A $2 bet brought back $142.50. If you strung together the right Trifecta bet (the top three horses in order), your two bucks would have paid out more than $145,000.