In baseball, a no-hitter is tallied when a pitcher mows down 27 batters in nine innings, yielding zero bases for a perfect game. In bowling, a dozen consecutive strikes results in a score of 300, the maximum possible. In hockey, a hat trick occurs when a player scores three goals in a single game. In horse racing, the ultimate achievement is to win the Triple Crown, representing victories in the three highest-stakes races of the season, crammed into a five-week window during the Spring: The Kentucky Derby, the Preakness Stakes and the Belmont Stakes. Put those numbers into perspective. The average number of no-hitters thrown in a Major League Baseball season equals two; 60,000 people a year bowl a 300, and Wayne Gretzky alone scored 50 hat tricks… Since the year 1919, only 11 horses have pulled off the Triple Crown – and none have done it since 1978. Straight from the Horse Racing Hall of Fame, here are the Heavenly Eleven.
Sir Barton.
One can only speculate how many mint juleps were served at the Kentucky Derby in 1919, four months after the yoke of Prohibition was dropped on America's necks. It surely didn't matter to Sir Barton, a blaze-faced chestnut, who seized his first professional victory at the Derby and continued on to become the first horse to take the Triple Crown. In his career, the notoriously grumpy Sir Barton won 10 more races, raking in over $116,000 at a time when most people earned about a thousand dollars a year.
Gallant Fox.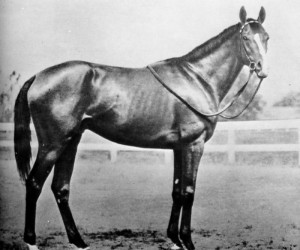 Believe it or not, Prohibition was still in effect in 1930, and the Great Depression had crashed on top of the nation to boot. For fans of horse racing, the malaise was surely interrupted when Gallant Fox stormed to three straight victories, becoming only the second Triple Crown winner. And he wasn't done there; Gallant Fox had a fine stud career after he was through with racing, as one of his progeny was, well…
Omaha.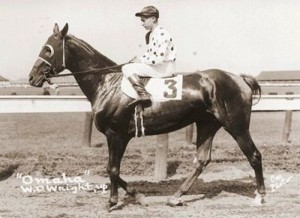 Son of Gallant Fox, Omaha won the Triple Crown in 1935, just five years after his sire. The following year, he was put aboard a ship and taken to Great Britain, where he engaged in four races (winning twice and placing twice). On June 18th, Omaha ran in front of an astonished crowd of more than 200,000 spectators. His lifetime earnings were in excess of $154,000.
War Admiral.
The offspring of the mighty Man o' War, War Admiral was a full hand smaller than his famous father, but had the same fire in the belly. He also pulled off something his Old Man could not – winning the Triple Crown in 1937. His final record was an astonishing 21-3-1. One of those losses was to legendary little Seabiscuit in a race in 1938, something of a family affair, as Seabiscuit happened to be Man o' War's grandson.
Whirlaway.
America had no idea that the nation was just six months away from being dragged into World War II. In the halcyon haze of the Spring of '41, Whirlaway grabbed all the headlines, winning the Triple Crown. Trainer Jimmy Jones described Whirlaway as "tireless, able to gallop all day if we didn't stop him." He went on to win Horse of the Year in 1941, and then won the award again in 1942.
Count Fleet.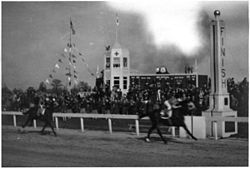 Just two years after Whirlaway won the Triple Crown, the feat was duplicated by Count Fleet, who was owned by the wife of John Hertz (of rental car company fame). In 1943, the United States was at war in multiple theaters, with no end in sight. Count Fleet provided the weary folks at home some much-needed respite, winning the Kentucky Derby by three lengths, the Preakness by eight lengths, and finally the Belmont Stakes by a record 25 lengths (a mark which would remain unbroken until 1973).
Assault.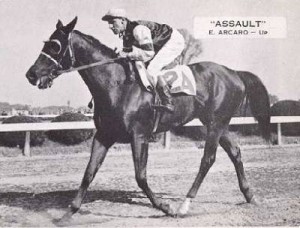 Born during wartime, Assault became the seventh Triple Crown winner, a Texas-born chestnut whose maternal grandmother was Man o' War's sister. Nobody ever expected Assault to amount to much, since he had badly injured his foot as a weenling when he stepped on a surveyor's stake. Even after winning the Derby and the Preakness in 1946, Assault was the second-favored horse at Belmont, behind Lord Boswell (whom he had defeated in the Preakness Stakes by three lengths). But he beat the odds again.
Citation.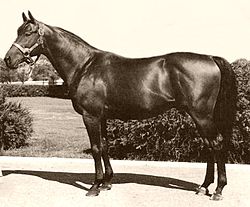 By 1948, casual racing fans must have figured that winning the Triple Crown was no big deal – after all, six horses had done so since 1930 – and Citation went on to do it again, becoming the second Calumet Farms horse to claim the honors (Whirlaway was the first). With the same trainer, Ben A. Jones, the Big Cy was ridden by veteran jockey Eddie Arcaro during his Triple Crown dash, and overall went on to win over a million dollars in purses. But it would be another 25 years before the next horse would win the Triple Crown.
Secretariat.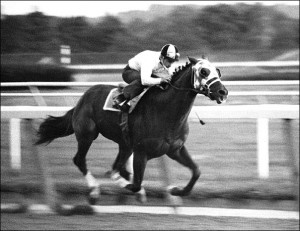 And a memorable string of victories it was. With the war in Vietnam still boiling, and President Richard Nixon embattled in the Watergate scandal, all eyes momentarily focused on Secretariat – leading up to Belmont in 1973, he was featured on the covers of both TIME and Newsweek magazines. The track records that Secretariat set at the Kentucky Derby (1 minute, 59.4 seconds) and the Belmont Stakes (2 minutes, 24 seconds) stand to this day, but this speed-merchant's signature victory came in the Preakness Stakes, with an incredible last-to-first explosion at the finish.
Seattle Slew.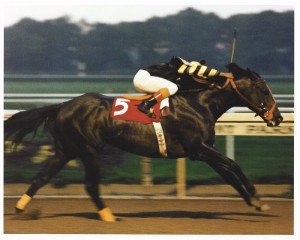 Born a year after Secretariat's memorable run, Seattle Slew became the 10th Triple Crown winner in 1977. The odds-on favorite in the Kentucky Derby (at 1-to-2), he didn't disappoint, winning by a length and a half. The margin of victory was the same two weeks later in the Preakness Stakes. After taking Belmont by four lengths, his won-loss record stood at 9-0, making Seattle Slew the first colt ever to come out of the series undefeated.
Affirmed.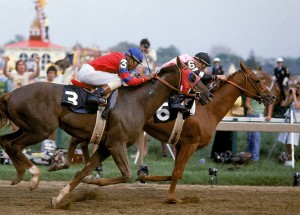 The last Triple Crown winner, Affirmed grabbed his wins the very next year, combining with Seattle Slew for the only back-to-back Triple Crown seasons. The year 1978 was indelibly marked by Affirmed's fierce rivalry with Alydar, with the two horses finishing first and second in all three Classic races (a distinction for Alydar, too, as the only horse to have three second-place finishes). Affirmed, the great-great-grandson of War Admiral, claimed over $2.2 million in earnings and lived happily until 2001. He was buried whole, the ultimate tribute to any racehorse, at Jonabell Farms in Lexington, Kentucky.